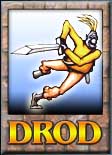 All content on site copyright © 2023 Caravel Games, All Rights Reserved, unless otherwise indicated.
Architectural Reference Guide
Building in DROD AE, DROD:JtRH, DROD:TCB or DROD:GatEB

The Architectural Process
The recommended route to getting a hold tested and submitted to the Holds board for people to play

A Friendly note from your HAs
Some notes from the Hold Administrators (the guys/girls who check that holds are completeable and have no major problems, before they can be uploaded onto the Holds board)

How to make a Smitemaster's Selection
These are the high quality holds that get released officially on CD with voice-acting, official storyline etc.

Scripting Reference Guide
Script Database
A discussion of the scripting system and some pre-made scripts you can use.

Voice acting and custom images
Some free stuff to use in your holds.

Architecture Board Index
A list of the uncompleted holds in beta on the Architecture board.


Building in DROD:RPG

DAA Architectural Handbook
Recommendations, suggestions and discussions regarding DROD:RPG hold building.

Architectopedia
An in-depth analysis of scripting commands used in DROD:RPG.

A Bold Note from your HAs
Guidelines from the Hold Administrators on submitting your completed RPG holds.

Released Images
Some images you can use in your DROD:RPG hold