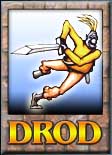 All content on site copyright © 2023 Caravel Games, All Rights Reserved, unless otherwise indicated.
DROD Engine Source Code
Yes, you can have all of the source code to the engine for our commercial products, DROD: King Dugan's Dungeon, DROD: Journey to Rooted Hold, DROD: The City Beneath, DROD: Gunthro and the Epic Blunder, DROD: The Second Sky, and DROD RPG: Tendry's Tale. You just can't have all the media, i.e. the levels, in-game writing, graphics, music, sound effects, and voice samples. I tell you this so you can be discouraged now instead of later, after you've downloaded one of the archives below and spent a few hours searching through the files. So are you really serious about doing something with this code? Great! If you've got questions, check out the "Development" board on our forum.

Follow our ongoing DROD development on GitHub.