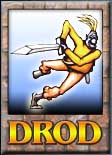 All content on site copyright © 2022 Caravel Games, All Rights Reserved, unless otherwise indicated.
DROD Wallpapers (By Clayton Weiss)
Clayton Weiss (ClaytonW) has created a set of cool wallpapers for use on your desktop (1024*768 resolution). Click on the links to download them.









You can find these and comments related to them here.