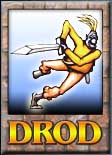 All content on site copyright © 2022 Caravel Games, All Rights Reserved, unless otherwise indicated.
Beethro Budkin Live! (By Clayton Weiss)
[Editor's Note: Clayton Weiss is a former webmaster of DROD.net, and for Hallowe'en 2003, he prepared a Beethro Budkin costume, earning him a place in history as DROD's No. 1 Fan. This is a visual diary, with commentary by Clayton - his more regular text-based diary is in this thread.]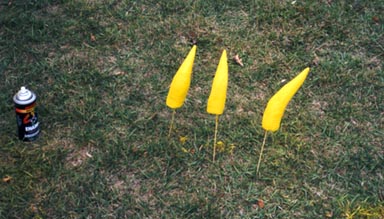 Someday I hope to have a whole Beethro garden!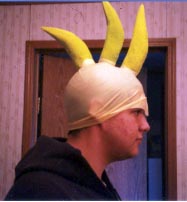 This is one of my first attempts at getting the spikes into the wig. They weren't very stable, and this wig eventually ripped. I also gave the spikes another coat of paint after this picture was taken, they're still kinda green in this picture.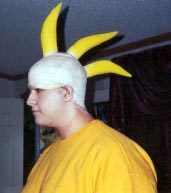 After the mediocre make-up job. I didn't know that she didn't do my neck, so it looks pretty weird. The seam where the wig is against my skin is still visible, and I later put fake skin on to try and hide it. It didn't work so well.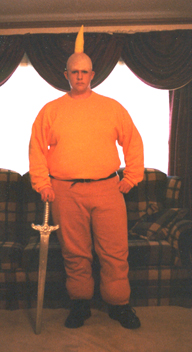 Finished product. Dungeon extermination is serious business, as you can undoubtedly tell by the expression on my face.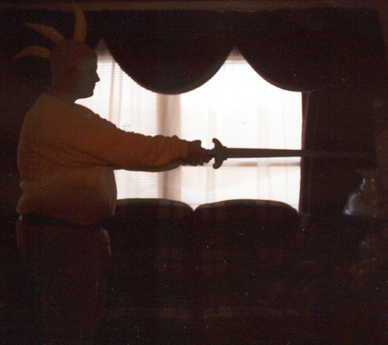 Side view. Sorry for the darkness.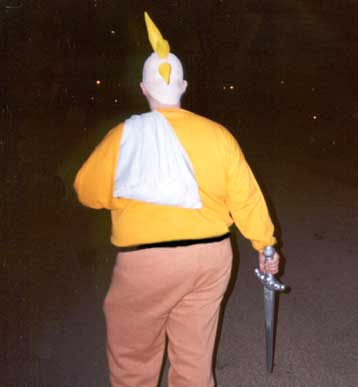 Beethro prepares to enter his next extermination job. This was taken later in the night, after I had gotten all my candy. I gave all the candy to my girlfriend Mary.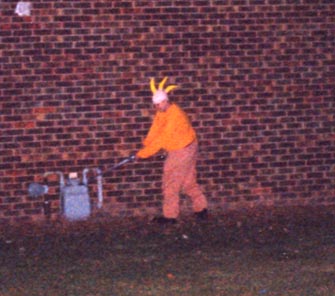 Yikes! Good thing I was by a brick wall, otherwise I might not have seen that Spider! =P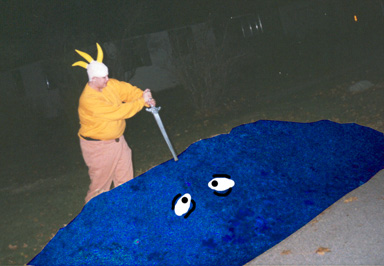 Stirring the Living Tar. It's actually just a pile of leaves.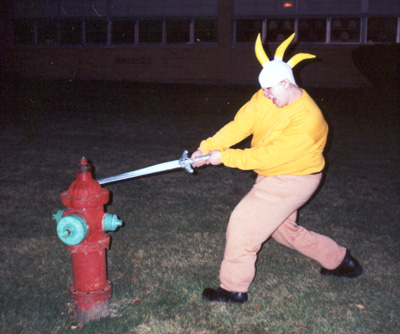 Beethro is seen here smiting a ferocious Fire Hydrant.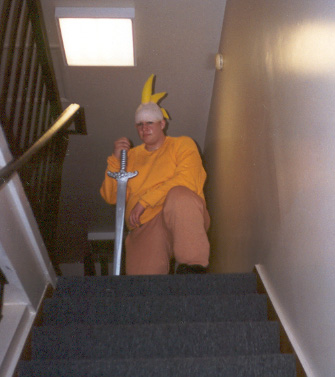 Beethro pauses to rest before decending the level exit stairs. This was near the very end, and by this time, I sweat all of the makeup off, and I look and feel generally horrible...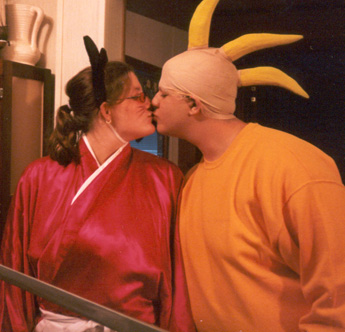 ...but it was worth it! Beethro wins the heart of the (samurai kitten) princess, Mary!