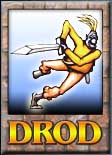 All content on site copyright © 2023 Caravel Games, All Rights Reserved, unless otherwise indicated.
AE Graphics - Style Modifications.
Style Modifications



All of these files (With the exception of DRODIS) are intended to replace the Style#Tiles.bmp files that are found in the Bitmap folder of your DROD 1.6 installation. As always, be sure to make a backup of any files that you intend on replacing.

[Note that a more complete list of all fan-made styles and mods can be found on the forum HERE]



---
Deadly Rooms of Death in Space! (DRODIS)


By: The DRODiS Team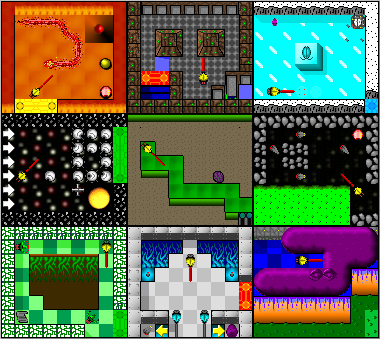 This is the first and only total conversion of DROD: Architects' Edition. Complete with new music courtesy of Bjorn Lynne, graphics made by Patrick Fisher, Michael Boulton, and Chris Marks, along with sound made by Stuwy, this modification incorporates a very spacey theme into DROD, and is definitely worth taking a look at. Instructions are included inside of the archive.



Download DROD In Space!
---
Trompe le Monde Picture Six.


By: Henri Kareinen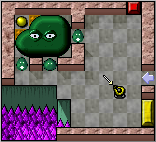 This is the style used for this picture. Probably the most classy and high quality graphics style that you can get for this version. A GeneralTimes.bmp is also included in the archive as well, which makes the yellow doors more JtRH-like.



Download Trompe le Monde Six.
---
Laboratory


By: Chaco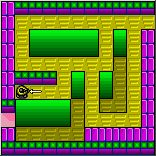 As far as we know, there are no mad scientists in Beethro's time, and that's a good thing. If there were, they'd all be hiring Chaco to be designing their evil laboratories for them using this design. Instead, we'll just have to settle for using this inside ordinary dungeons. No fun at all.



Download Laboratory.
---
The Twenty-Sixth Level


By: Chaco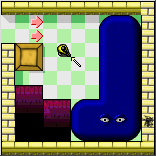 If you played very close attention to the end of this game, you'd see a very bright and interesting style to finish off the game. But why can't you use it? Well, Chaco had to take initiative to create it first so that you can enjoy it for yourself, silly.



Download the Twenty-Sixth Level.
---
Snakepit


By: Chaco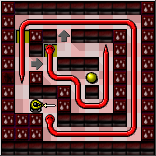 Still in an artistic mood, Chaco recreated the style used for the MMO game Snakes to the Death!, and allowed it to be used ingame. Probably the best AE style you can find, bar none.



Download Snakepit.